Tailored spearfishing wetsuit
The Alpha FG-MAX CAMO COVERT SPC
Tailored spearfishing wetsuit Alpha Is a mesh made of the best Japanese neoprene, with splattered cell inside and an innovative water repellent camouflage liner.
The Covert SPC is part of the Alpha fg max-camo series mimetic family.
The mimicry of the Fg max-camo series is the mimicry point of reference for mascot moths.
Obtained with a complex process that combines real seabed with various levels of texture and geometric images superimposed on multiple levels.
Gaining a truly exceptional appearance and superimposition of colors with a truly effective camouflage effect.
The Fg max camo series boasts a variety of mimetic mutes with different coloring and textures so that every fisherman can choose the most suitable mimetism for the seabed, with the benefit of a real camouflage weapon.
In particular camouflage Alpha FG-MAX CAMO COVERT SPC
uses a number of green shades directly from the color of the various seabed elements combined with beige, brown, gray, and black elements all in various shades.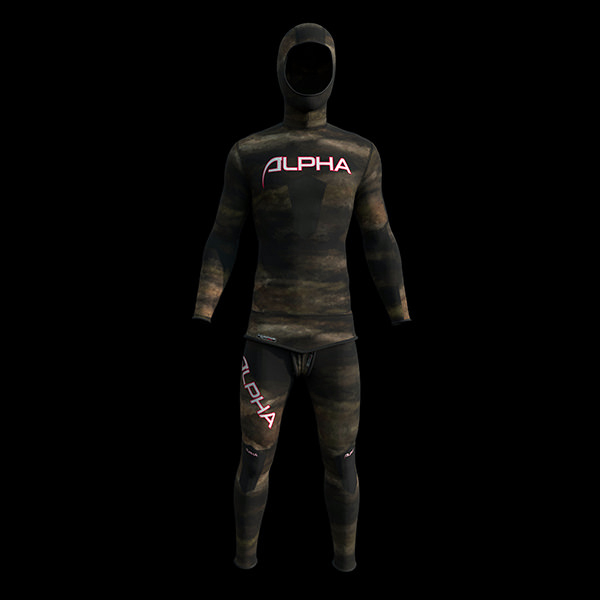 The AlphaCOVERT SPC is designed to be used on a wide variety of backdrops and effective in different scenarios.
This is the first model of the fg max-camo collection that uses the process developed by Alpha Wetsuits where organic pixels are clustered in macroforms by creating larger models, resulting in a distant and incredibly camouflage effect in the vicinity.
The Alpha uses a multitude of unprecedented colors, a process developed and produced directly by Alpha Wetsuits, the only company among mute manufacturers that has ultra-technical fabric and ultra-technical laminators used in military and sports fields for maximum Performance and durability.
So the whole process of rubber manufacturing and lamination takes place within the Company.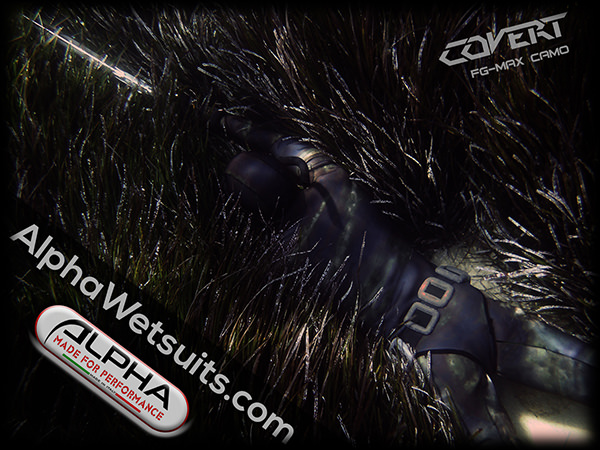 Details of the Alpha FG-MAX CAMO COVERT SPC
Suit trouser jacket made in versions 3.5 / 5/7 and 8 mm
Anatomical, preformed camouflage pattern made of superelastic split neoprene
Lined externally for increased abrasion resistance.
Innovative 3D camouflage design
Open cellular interior to ensure high thermal protection.
Built-in jacket, arms and preformed bottom, a new sternum reinforcement for long lashing, double-edged bearded tail with reinforcement closure closure (Alpha quick lock.)
High waist trousers or suits with knee / ankle / shoulder preforms.
Smooth edges on face revolutions, wrists and ankle wraps.
The full jacket and trouser (available separately) available in the 3.5 / 5, 7mm-8MM versions, utilizes the exceptional elasticity of the split neoprene to provide the ultimate in comfort, freedom of movement and ventilation.
Arms, legs, preformed bottom, split interior.
Built-in hooded jacket, with wide stern support for gun loading
Inguinal closure with embossing or Velcro fastening buckle for greater adjustment.
Seamless outer seams made of water repellent ..
Neoprene seals with a smooth lining, lower on the waist, jewels and wires.
Sternum reinforced padding for rifle refill.
Trousers with preformed legs and knee reinforcements in the knee-knee area.
Size II III IV V VI and tailored.
Alpha Fg max-camo covert spc