SmoothSkin Wetsuit Jacket
– SmoothSkin Wetsuit Jacket
Smooth Skin Wetsuit
how to choose from the best spearfishing and freediving wetsuits around:
Lycra suits – diving in Italy, mediterraneo waters? A lycra suit might do while still making sure you protected from sun, potential stingers and also your own catch.
If you want to keep warm as well though, or want to use your suit help you float comfortably on the surface as well, consider a neoprene model.
Thermal Wear – the next step up in terms of warmth. Thermal provide fantastic extra warmth, around the equivalent of 2 mm neoprene.
Closed Cell Neoprene – great for warmer water and a good option for beginners. Easy to put on, great protection and warmth while being very durable.
Open Cell spearfishing wetsuits have air bubbles and feel like a second skin. The material is a little sticky, you will therefore use some lubricant like conditioner blended with water to slide into it. This neoprene is higher quality and more comfortable, hence the difference in price.
Smoothskin, or reversible wetsuits are the love child of the two above. Easy to put on, with great wind-chill protection and quicker drying while also making you more streamlined and letting you glide through the water quicker.
For commercial diving, closed cell neoprene suits such as the Alpha are best. Closed cell neoprene is less exposed than open cell, and therefore does not compress as much.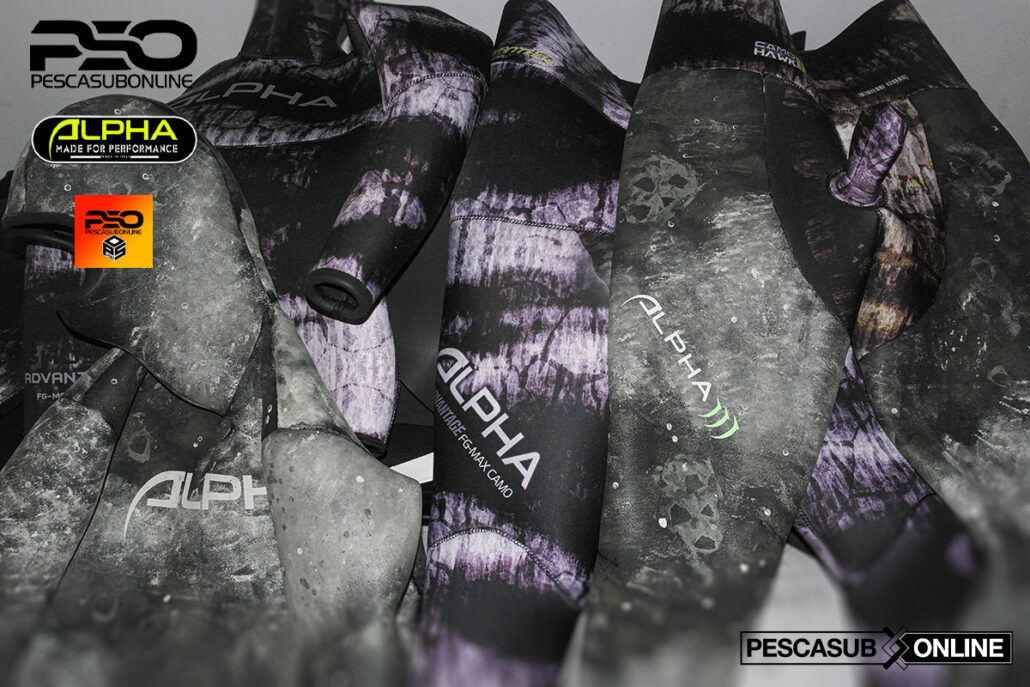 made to measure,
daiwabo, camouflage yamamoto neoprene lined strech camouflage neoprene made in italy for unsurpassed abrasion and tear resistance.
The wetsuit incorporates stretch panels for an anatomically profiled Spearfishing and freediving fit. The suit incorporates class-leading internal protection as well as reinforced stitching throughout and strategic stretch paneling for the ultimate in high performance spearfishing comfort, security and fit.
Tailored suit from spearfishing made of water repellent neoprene lined by daiwabo and yamamoto superelastic camouflage exclusive Alpha wetsuits