Freediving wetsuits
Freediving wetsuits Alpha specializes in high quality freediving wetsuits. We use only the highest quality neoprene and materials, specifically chosen for each application to provide the highest performance products. Alpha goal is to create a product that perfectly suits the needs of each customer provide Tailored Made to measure and standardized designs, along with a full range of custom options. Each suit is handmade and made to order. We pride ourselves on the highest quality and handmade craftsmanship!
Suit are all available with full custom tailoring and additional customization options top-only designs.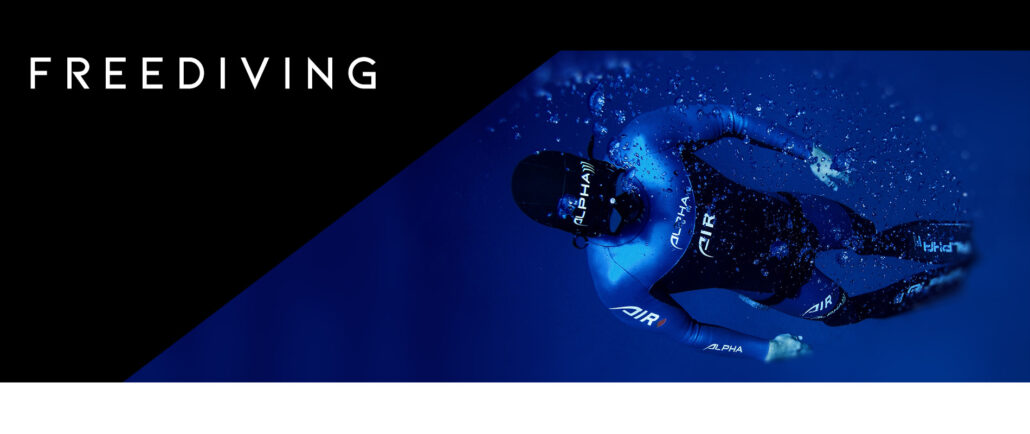 Freediving
is a popular water sport that involves diving underwater without the use of any breathing apparatus. As such, the sport requires specialized gear to ensure the safety and comfort of the diver. One of the most important pieces of equipment for freedivers is the wetsuit. In this article, we will explore the characteristics and features of wetsuits that are specifically designed for freediving.
Freediving wetsuits
Are different from regular scuba diving wetsuits in several ways. First and foremost, they are typically much thinner, with thicknesses ranging from 1mm to 5mm. This is because freedivers do not require as much insulation as scuba divers, who need to maintain warmth for extended periods of time. Thinner wetsuits allow for greater flexibility and range of motion, which is important for freediving.
In addition to being thinner, freediving wetsuits are also designed to be more streamlined than scuba diving wetsuits. This is because freedivers need to move through the water quickly and efficiently, and excess material can create drag and slow them down. The suits are also typically made from more elastic materials, such as neoprene or Yamamoto rubber, to ensure a snug and comfortable fit.
Another key feature of freediving wetsuits
is the presence of a hood. The hood serves to keep the diver's head warm and also helps to reduce drag in the water. Freediving hoods are typically made from the same material as the rest of the suit and are designed to fit snugly around the diver's head and neck.
When choosing a freediving wetsuit
it is important to consider the water temperature and diving conditions. Thicker wetsuits are appropriate for colder water temperatures, while thinner suits are more suitable for warmer waters. It is also important to choose a suit that fits snugly, as excess material can create drag and decrease performance.
In conclusion, freediving wetsuits are an essential piece of equipment for anyone interested in the sport. They are designed to be thin, streamlined, and comfortable, allowing for maximum flexibility and range of motion. By understanding the key features of freediving wetsuits, divers can choose the right suit for their needs and enjoy a safe and comfortable diving experience.